CD Distribution
The setup program is placed on the CD alongside a autorun.inf file. Insert the CD and the autorun file automatically invokes the setupnn.exe program if the autorun.inf file contains:
[autorun]
OPEN=.\Setupnn_05.01.nnnn.exe (where nn = 32 or 64 bit)
Pre installation notes
1. Uninstall previous touch drivers
As a matter of course it is highly recommended that any other non UPDD touch drivers be uninstalled (followed by a system reboot) prior to installing UPDD.


2. The installer creates a folder tbtemp in %temp% as defined by the environment variable TEMP. The environment variable and folder must exist.  The component to expand cabinet archive files must also exist.


3. USB consideration
It is recommended that where possible the USB device is connected to the system after installation.  This allows the driver to discover the device once connected and take the appropriate action, avoiding conflict with the Windows device management. If during install or when the device is connected the Windows Hardware Wizard is invoked use the Wizard to select the UPDD driver (this will only happen with certain USB controllers). This completes registration between the device and UPDD. DO NOT cancel the wizard as it is possible the touch device will not work. More information on this and other USB issues relating to UPDD install is available here.

The driver will, where possible, automatically take control of USB devices configured in the package.  However, if another OEM driver is installed to control the device the UPDD entry will show an error in the device manager as UPDD will not automatically try and remove an existing driver.

To rectify this problem uninstall the existing driver software or remove the device created in the device manager by the other driver and reinstall UPDD. If this is not possible manually associate UPDD with the device.


4. The installation procedure is used to install the software for a single touch screen / UPDD supported pointer device.  In a multi-touch screen or pointer device environment invoke the UPDD Console - Hardware dialog to add additional non PnP devices after installation. USB (PnP) devices, supported by the driver, will be added automatically as they are connected to the system; however you will need to adjust the desktop association to newly discovered devices. See the Multi monitor and multi device documentation for further information.


5. Windows XPe
If UPDD is installed on an XPe system using the standard setup.exe file, typically to test the driver prior to embedding, UPDD installation has certain dependencies that need to be present for successful installation. One of the less obvious dependencies is the use of RegEdit during install to set up the registry. If RegEdit is not present all selections and dropdowns are blank.


6. Windows 8.x – very important note
UPDD driver can be used to allow legacy, non HID and non certified touch hardware to work in Windows 7 and 8 systems, both in mouse emulation and HID compatible mode – the latter allowing all the built in Windows 7 and 8 extended touch features to be utilized.  To allow legacy hardware to function in the HID extended touch mode UPDD implements a Virtual HID device through which it posts all touch data.

However, we are aware that some OEM System Builder editions of Windows 8.1, aimed at dedicated touch systems (Notebooks, Tablets etc) now require touch hardware to be certified for Windows 8 and 8.1, based on completion of WHC tests with the certified code held in the device's firmware. Systems built using OEM system builder guarantee that the touch device has passed all the stringent touch tests and requirements and will deliver the best end user touch experience.

When using UPDD pre 5.1.1239 in these system Windows will recognize that the Virtual HID device is not WHC certified (it is digitally signed, having passed the HCK test, but this is a different signature) and extended touch features for this device will be disabled.  However, with UPDD 5.1.1239 and above we use a different touch interface to post touch data into these OEM versions of Window 8.x which reinstates touch functionality for UPDD supported devices. This interface is used on all Windows 8.x systems.


7. Very important PS/2 notes
The current implementation handles the device as a proper PnP PS/2 device.  However, there are some restrictions:


a) The PS/2 device must be selected during installation; it is not a hot pluggable device (unlike other PnP devices) and we have difficulties with manual addition so the PS/2 devices (like other PnP devices) are not shown as a device that can be added manually.  USB PnP devices are automatically added by the new UPDD PnP interface.


b) It is recommended that the system be booted with the ps/2 device plugged in prior to install (same as for a normal mouse). We are concerned that some old BIOS's will release the PS/2 interrupt if no PS/2 device is seen on the system.


c) During extensive tests we found that on a couple of occasions the device did not work after install. We have not been able to reproduce this install issue.  If you do find that the touch screen is not working after install then:


1. Check for a PS/2 UPDD entry in the Device Manager.
2. If a UPDD entry is not seen use the hardware wizard to update the driver for the ps/2 touch device to UPDD. Note – once or twice we got an error "Not enough memory to complete this request" whilst switching drivers this way.  It always worked on the 2nd attempt.


8. Signed drivers

Our driver and utility programs carry an Authenticode Certificate. An Authenticode digital signature guarantees that the software was produced by the individual or company named in the certificate, which has been verified by the authority that issued the certificate.

However, not all builds of our driver will be WHQL digitally signed. Windows will automatically show a warning dialog if a digitally unsigned driver is installed. Some UPDD installs, that are installing an unsigned driver, have been configured to automatically handle the warning dialog. This results in a 'dialog flash' during install. Other UPDD installs have been configured to not handle the warning dialog, leaving the user to handle the dialog, as seen below;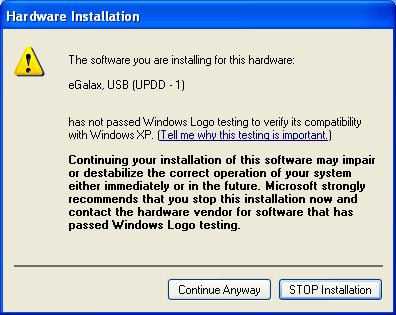 Windows can be configured to not allow the installation of unsigned drivers. Drivers have been identified as one of the major causes for the past instability of Windows. Drivers can be submitted to Microsoft to be approved and 'digitally signed' to show that they have passed specific driver acceptance tests. UPDD cannot on its own be submitted for approval. It can only be approved with the pointer device. Where UPDD has been submitted to Microsoft with appropriate hardware it has passed all tests and been approved and digitally signed. You may or may not be installing a signed version of this driver but you should not be unduly concerned if you are installing an unsigned version. For more information the WHQL and digital signature documentation.

Given that signing is related to the driver and controller combination we can either supply a driver that only supports a signed controller(s) or the driver may support many controllers, some signed and some not.  In this case the driver is only signed when using a signed controller.  If a supported controller is used, that has not been signed, the system will indicate that this is not a signed combination.


9. Sysprep utilization
Sysprep and Win PE is an environment that is designed for system administrators, Original Equipment Manufacturers (OEMs) and others who must automatically deploy the Windows operating system on multiple computers.

Utilising UPDD in these environments you must enable the kernel mode operation.


10. Very important BIOS settings issue
A hardware related issue has been reported on some systems with the BIOS settings of UPC and PLD. This has been seen on some systems running Windows 7 that have been reverted to XP. When these systems hibernate or standby they do not return as expected and the system appears totally dead. Investigation revealed that the driver handles and passes on a IRP request (as expected in power management processing) which is never completed and the driver 'hangs' waiting for the completion notice. We suspect this may be a BIOS issue on these particular systems. However, we have experimented with not passing on this IRP request and in tests this did not have any ill effect and the system resumed correctly. The following DWORD registry entry can be used to block the driver's IRP forward processing:

HKEY_LOCAL_MACHINE\SYSTEM\CurrentControlSet\Services\tbupddsu\NoForwardPower=1

A .reg file to set this setting is available here.

Update – 27/09/10 – We discovered on some systems that when returning from hibernate (deep sleep) the USB device was not powered up if the IRP was not processed. The driver can detect that the USB device is not powered up and force a stop / start of the device to initiate power up such that the touch continues to work.

Note: We would consider this function to be a hack to overcome a hardware issue and should be used with caution.
Installation Procedure
In the majority of cases the supplied setup program will be invoked to install the driver. In some situations, such as installing the minimum component, you may want to control the files that are installed on the system and this is covered in Manual install section
Using the supplied set up program
Installation of the driver must been performed whilst logged on as a user with Administration rights. Please note this is not the same as running as an Admin user. The user account must have Administration rights.  If you do not have these rights then in some OS you can right click on the setup.exe program and select 'Run as administrator' and enter the appropriated credentials as requested.
Expand the .ZIP file or download the setup program from the http link provided and then run the appropriate setup program. Run either the setup32 or setup64 depending on your system's architecture.
Prior to installing, you should uninstall any UPDD version 3 or 4 driver.  You can optionally install over previously installed UPDD version 5 drivers.
Once invoked, the install initially checks that the OS is supported will issue a notice if not and cease installation.  It then checks that the driver has support for the system's architecture. E.g. installing a driver only built for 32 bit system will not install on a 64 bit system.  In the latter case you need to request a setup with the required support.
If the OS is supported the standard install (running the setup program without any parameters) will show a list of supported controllers in this build.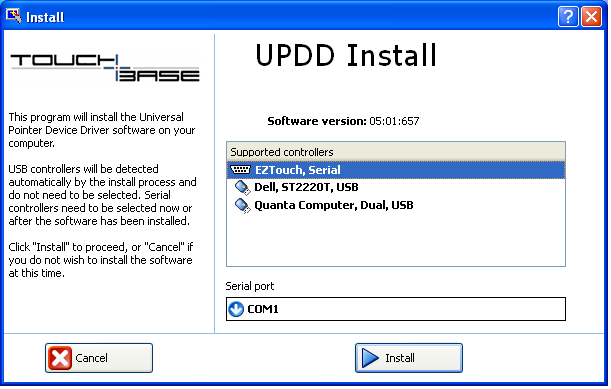 In the above example the supplied driver supports 2 USB devices and 1 serial device.
If installing for a non PnP touch device, such as a serial device, you need to select the controller from the list. PnP devices will be automatically discovered by UPDD driver so there is no need to select. If you select a serial controller you will be able to define the serial port. Additional non-PnP devices can also be added after install as required.
Keyboard hotkeys, via the Alt key, can be used to control the install dialog.  Up and down arrow keys can be used to traverse the controller list, Alt C to cancel and Alt I to continue with install.
During install the system may issue certain warning dialogs, such as the installation of a non signed driver (if installing a non signed version of our driver!) and under Window 7 User Access Control dialogs to confirm updates to the system are allowed. If at any time during the install or after the first reboot the system asks for the location of the driver to complete install the folder to be selected is <program files>\updd (this should not occur!).
Once the install has completed and all being well the touch should now be active albeit not calibrated.  If the cursor does not react and calibration fails then try rebooting the system – a reboot is currently needed for Win 8.x touch interface to work.  If touch is still not working after install and reboot please refer to the troubleshooting section below.